Post by Archives Admin on Dec 26, 2009 0:23:32 GMT -5
Lucy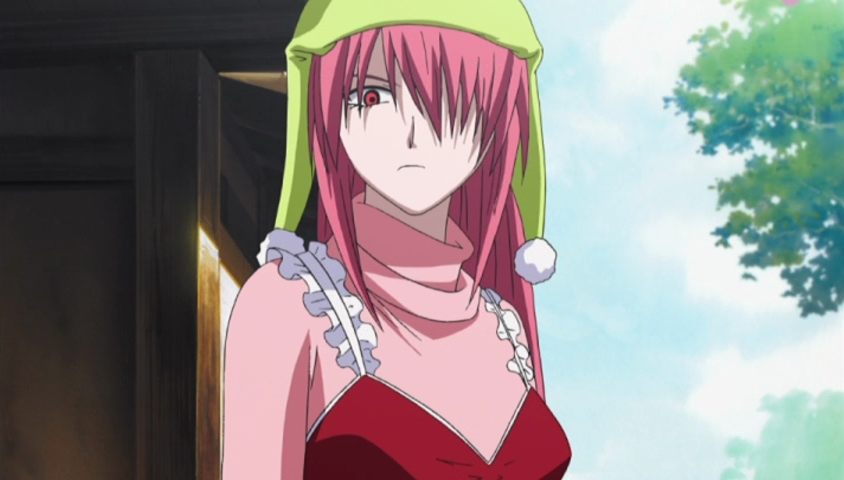 AKA
: Nyu
Height
: 5.5 feet (?)
Mass
: Not Available
Running Speed
: Moderate
Powers
:
-
Vectors
: Lucy possesses four invisible arms which she can extend to great lengths from her back. These arms are very strong, able to lift heavy objects with ease, rend solid metal, and throw smaller objects such as pens with enough force to blow straight through a person's skull. She can also use them to lift herself into the air or leap great distances. They're extremely fast as well, able to deflect a hail of bullets. Also, they can vibrate at extremely high frequency, allowing them to cut people, and even rocks, cleanly in two. Conversely, they can simply pass through solid objects. This includes a person's flesh and bone, allowing Lucy to kill an opponent merely by severing a blood vessel. Finally, any human that is penetrated by her vectors but isn't killed will be infected with a virus that will cause their children to be born as Diclonius.
Weaknesses
: If one of the horns on Lucy's head is broken off, she will go into a comatose state for a few minutes.
First Appearance
: Elfen Lied (Entire Series, 2004)
Human Kills
: 68+
Fight Record
: Wins: 1, Losses: 1, Ties: 0
Home World
: Earth
Origin
: Japan
Type
: Mutant
History
: When Lucy was a little girl, she lived at a children's center where she was constantly teased because of the pair of small horns on her head. Her only friend was a small puppy. One day, though, some of the other kids found out about the puppy and beat it to death right in front of her. In a fit of rage and sorrow, Lucy's vectors were awakened and the other children were dismembered in the blink of an eye. Not understanding what happened, but still knowing she couldn't stay, she went into hiding. Her murderous Diclonius instincts began to awaken, and she would enter random houses, kill the occupants, and stay there for a few days before moving on to avoid being caught.
During this time, she met a boy named Kohta, whom was staying with his relatives for the summer. Unlike nearly everyone else in her life, he treated her like a normal person. The two immediately became friends and played together constantly. Summer soon drew to an end, though, and Kohta would be returning home. The night he was supposed to leave, he went to a festival with his cousin, Yuka. Lucy decided to show up there and surprise him, but when she saw him with his cousin she stopped. A passing man carelessly bumped into Lucy and knocked her to the ground. There she lay, her Diclonius side urging her to kill. As a crowd began to gather around her, she finally gave in. Lucy stood up and removed the hat Kohta had given her, revealing her horns. An instant later, half a dozen people were dead.
That night, as Kohta and his father and sister boarded the train to leave, Lucy snuck on as well. Feeling betrayed, she killed Kohta's father and sister right in front of him. As a result of the trauma, Kohta lost his memory of most of the summer, and of Lucy's entire existence.
Shortly afterward, she was apprehended and taken to a facility off the coast built for experimentation on Diclonius. There Lucy remained for eight years, the subject of horrible experiments. She eventually escaped, though, in the process slaughtering 23 armed soldiers within five minutes. Just as she made it outside, she was struck in the head by a .50 caliber anti-tank round. The round shattered the metal helmet encasing her head and sent her plummeting off a cliff into the water below, unconscious.
Several hours later, she washed ashore on the mainland where she was found by Kohta, the very same boy she befriended eight years earlier and whose father and sister she had killed, and his cousin Yuka. The teens named the girl Nyu, as that was all she was able to say. Little did they know, this was an innocent, harmless split personality which Lucy developed as a result of the blow from the massive bullet. That night, soldiers were sent out to kill Lucy. When they found Kohta and Nyu on the beach, the boy was knocked out and the helpless girl was captured. The leader of the group, Bando, was disappointed in the lack of a struggle after he'd been told she was a vicious murderer. He released her and began beating her, eventually awakening Lucy. The battle was on, but Bando couldn't land a single hit despite his skills and Lucy quickly gained the upper hand. Once at her mercy, Lucy methodically ripped off one of his arms, snapped the other, gouged out his eyes, and finally started to strangle him. Before Lucy could kill him, though, Bando's flailing hand bumped her own, drawing her attention to the seashell she'd been holding to give to Kohta. Upon seeing this, her Nyu personality took over. Seeing the mangled, flailing man on the ground in front of her, Nyu immediately fled in terror. Kohta found her later, completely oblivious to what had transpired.
Several days passed before the next plan to capture Lucy was implemented. Another Diclonius, Nana, was sent out to find her. Upon doing so, the two began to battle. Lucy seemed to have the initial advantage with her merciless fighting style, but Nana's vectors had greater range. To combat this, Lucy began hurling nearby objects. The two were at a stalemate until a young girl named Mayu wandered into the area. When Nana yelled at the girl to leave, Lucy capitalized and sliced off one of Nana's legs. She soon followed up by removing both arms and the other leg, but was distracted by a shot from a sniper before she could finish Nana off. Nana had one last trick up her sleeve, though, and sent one of her vectors through Lucy's pineal gland, disabling Lucy's vectors temporarily. At this point soldiers began closing in, and, knowing she couldn't fight them off without her vectors, Lucy retreated.
Several weeks passed, and school started. Kohta and Yuka brought Nyu with them to attend the local university. Professor Kakuzawa, the son of the man who headed the Diclonius research facility, recognized Nyu as Lucy and, claiming she was his niece, got Kohta and Yuka to hand her over to him despite Nyu's protests. Of course, this was all a lie, and his intentions became clear that night when he revealed he was part Diclonius himself and tried to rape her. Before he could go through with it, Lucy awakened and decapitated him. She spent the next several hours wandering around the city before being found by Kohta and Yuka the next day.
Some time later, Nana came searching for Lucy. Her unprovoked attack on Nyu brought Lucy forth. Just as the two Diclonius began to fight, Mayu immediately got between them to break it up. By this time, Kohta had come outside to investigate and Lucy reverted back to Nyu once again.
When Mariko was dispatched to capture Lucy, Nana left to fight her. Not knowing what was going on, Kohta and Nyu chased after her. Once they reached the battlefield, the group of soldiers that were sent along with Mariko opened fire while the disabled Mariko was taken away. Lucy took over to protect Kohta and, for the first time since the incident 8 years earlier, openly killed in his presence. This awakened his memories of her, but before they could talk further Bando showed up and attacked Lucy. Lucy lead him away, yelling to Kohta to meet up with her later at the stone steps where they first said goodbye 8 years earlier.
She easily defeated Bando once again, but this time spared his life without even seriously injuring him. She then made her way to Mariko, and the two Diclonius began to fight. Mariko's much longer and more numerous vectors easily overwhelmed Lucy, chipping off one of her horns in the process and sending her into a state of shock. By the time she recovered a few minutes later, Kurama had already taken Mariko away.
She met up with Kohta at the stone steps a short while after, and the two finally confessed their feelings for each other. While he could never forgive her for killing his sister and father, he also still loved her. After sharing their first kiss, Lucy left for what both she and Kohta knew was almost certain death. As she faced down dozens of soldiers on a seaside road, her other horn was chipped off during the hail of gunfire...
However, the next day a familiar silhouette appeared at the front door...