Israfel
Feb 3, 2005 21:59:48 GMT -5
Post by Archives Admin on Feb 3, 2005 21:59:48 GMT -5
Israfel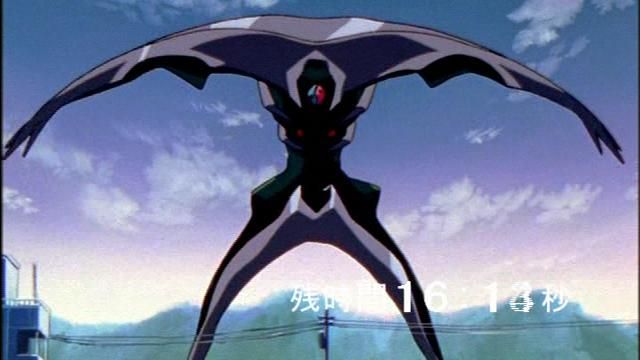 Height
: 164 feet
Mass
: Not Available
Running Speed
: Moderate
Powers
:
-
Energy Beams
: Israfel can fire an energy beams from his eyes, these are average in strength and can destroy a building in one hit.
-
Claws
: Israfel has incredibly sharp claws which can cleave through solid steel with ease.
-
Regeneration
: Israfel can heal just about any type of wound in just a few days.
-
Split
: Israfel can split into two entities and then reform whenever he wishes. These two copies have the same attacks, but are only 140 feet tall.
-
A.T. Field
: Israfel can generate an A.T. Field, a powerful type of force field that can protect it from almost any attack.
Weaknesses
: If the two S2 Engines on its torso are penetrated, Israfel will die in a massive explosion.
First Appearance
: Neon Genesis Evangelion: Both of You, Dance Like You Want to Win! (1995)
Human Kills
: Not Available
Fight Record
: Wins: 1, Losses: 1, Ties: 0
Home World
: Earth
Origin
: Japan
Type
: Unknown
History
: One of the strangest Angels known, Israfel emerged from the ocean to wreck havoc on mankind like all the other Angels before it. The monster though, was met by the combined forces of Evangelion Units 01 and 02, but careless pride on the fault of Asuka allowed the creature to split into to beings after cutting it in two, and it didn't take long for the Angel to defeat the machines, and embarrass NERV. In response to their weapons defeat, NERV unleashed an N2 Mine on the beast, making incapacitated for at least six days as it regenerated.
Over the days that followed, it was discovered that if they are to defeat the Angel in a whole, both halves would have to be destroyed at the exact same time, so Shinji and Asuka went under a program to help them coordinate together. When the Angel finally finished regenerating, the attack once again formed against the creature, but this time, the Evas were ready. A fury of kicks and punches forced the Angel to rejoin as one creature, a kick to the S2 Engine caused the creature to explode.